Tripawds is a user-supported community. Thank you for your support!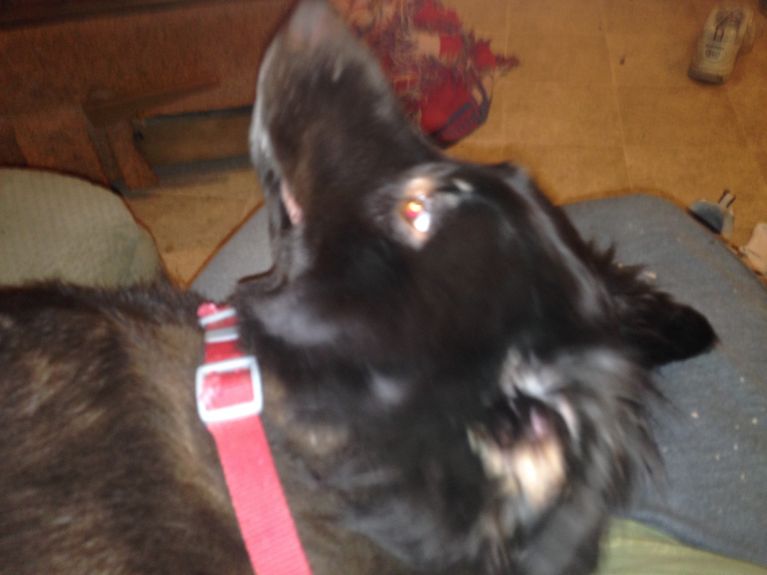 Grizz is a brown Australian Shepherd. He was bought for my youngest son but as is common, Mom takes care of the animal. Grizz became very attached to me. I never got far from his sight. I call him my hairy hemorrhoid because he always seems like he is attached to my butt. He is an ornery, rotten, lovable ball of fur.
Memorial 2018…. the day of the accident. My husband was working outside. I let the dogs out and was getting ready to take out our old chocolate lab on the leash. Grizz was the only one without the electric fence collar. He never left the yard so we weren't to concerned about getting him one. This day was different….
As I was ready to walk out the door with Buddy (our old chocolate lab) my husband was yelling that Grizz got hit. Immediately I dropped the leash and closed the door behind. Grizz was limping (dragging his left leg) up through the yard. When he got to me he collapsed. The guy that hit him was standing at the edge of the road sobbing and apologizing. My husband was trying to gather the other dogs to get them inside. I am trying to assess the situation (EMS training kicked in even though it was a dog). No open wounds, no blood to control, breathing labored but steady. I am trying to call the vet. Misdiaed several times. No answer, try another vet… leave a message for the on call emergency vet to call us. I ended up calling 4 or 5 vets before I got an actual human. Bring him on in… words that soothes me a bit.
After a 45 minutes drive that seemed like 3 hours we get to the vet. They immediately check him out and take him back for pain management and a better assessment. A bit later the vet came out to update us…. a minor brain bleed and a fractured shoulder. I felt like a ton of bricks was dumped on me. We decided to have the surgery to fix his shoulder. We left, my heart aching that I had to leave Grizz (he get anxious with strangers), not knowing if he would even make it through the night.
The next day (Tuesday) the vet called me after rounds to tell me upon further assessment he has NO feeling in that leg and they believe the nerves are damaged. She also couldn't promise that the surgery would be a success and that we wouldn't have to do more surgeries later down the road. We went we went over the pros and cons. After much discussing we decided that amputation would be a better road.
Wednesday was surgery day…. my stomach was in knots. He came through but they would keep him for pain control.
Finally Friday evening we were able to bring him home…..